Wednesday 27 April 2022, 17.30BST

Virtually everyone knows what race looks like. But what does race sound like?  And what does race sound like in Shakespearean drama, on the page or on the stage?  During this talk, Dr David Sterling Brown will discuss, in relationship to Shakespeare's dramatic literature, the "sonic colour line" and "listening ear" concepts that were introduced by Jennifer Lynn Stoever in The Sonic Color Line: Race and the Cultural Politics of Listening (NYU Press, 2016). According to Stoever, we not only see race, we also hear race, yet so many people still think of race as only a visual phenomenon.  Such a misconception means that opportunities are missed to analyse race and understand its impact, how it shapes what we hear and how what we hear shapes our ideas about race.  During this research seminar session, Dr Brown will highlight some of the ways sound appears in Shakespearean drama and he will identify how we can extract racialized meaning from what we hear, for it is not just the human voice that informs how race happens in the world around us.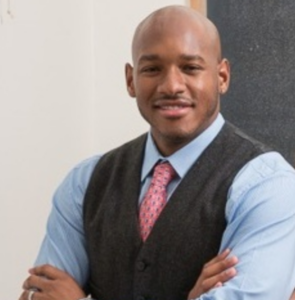 Dr David Sterling Brown is a Shakespeare and premodern critical race studies scholar—is Assistant Professor of English at Binghamton University, SUNY.  His antiracist research, which centres on pedagogy and on how racial ideologies circulate in and beyond the early modern period, is published or forthcoming in numerous peer-reviewed and public venues such as Shakespeare Bulletin, Literature Compass, Radical Teacher, Shakespeare Studies, Hamlet: The State of Play, White People in Shakespeare and Los Angeles Review of Books.  His forthcoming book projects, one of which is under advance contract with Cambridge University Press, examine how whiteness operates in Shakespearean drama.  Through his current Mellon/ACLS Scholars and Society Fellowship, Dr Brown has a residency with The Racial Imaginary Institute, founded by Claudia Rankine.
This seminar is organized jointly between the Soundscapes in the Early Modern World Research Network and the Research Institute for Literature and Cultural History at Liverpool John Moores University.
David Sterling Brown and Jennifer L. Stoever's The Sound of Whiteness, or Teaching Shakespeare's "Other 'Race Plays'" in Five Acts, recorded in the Folger's Critical Race Conversations series may also be of interest to those attending this seminar.